At Revitalize IV Lounge, we help our clients reach optimal levels of health and vitality through our comprehensive IV vitamins infusion and wellness program. Our vitamin infusion therapy delivers vitamins, minerals and amino acids directly into the bloodstream. IV vitamin infusion is the most effective and efficient treatment for replenishing vitamins, minerals and aminos acids because it bypasses the digestive system. IV vitamins are delivered directly into the bloodstream meaning absorption is 100% guarantee.
We combined our medical expertise and passion to help patients reach optimal levels of health. As a group of passionate and caring physicians, physician assistants, nurses and firefighter/paramedics, we implement our knowledge and what we have observed while treating the patients that are : critically ill, intoxicated and vitamins/nutrients deficient. Our vitamins infusion pro-vide accelerated recovery, hydration, increased stamina, energy and body detoxification. Years of working in the emergency room our doctors, nurses and first responders have seen the amazing benefits of IV vitamin infusion therapy, therefore we strive to make it accessible and affordable to the public. At Revitalize IV Lounge our vitamin infusions can be administered in the comfort of your home, workplace or at our facility which provides a relaxed and personalized environment.
Our goal is to encourage our clients to have a proactive and preventive practice to nourish their bodies with nutrients that can correct or prevent illness, decline in physical performance, brain function or hormonal imbalance, at Revitalize IV Lounge we can help you achieve your health goals and maximize your health.
Physicians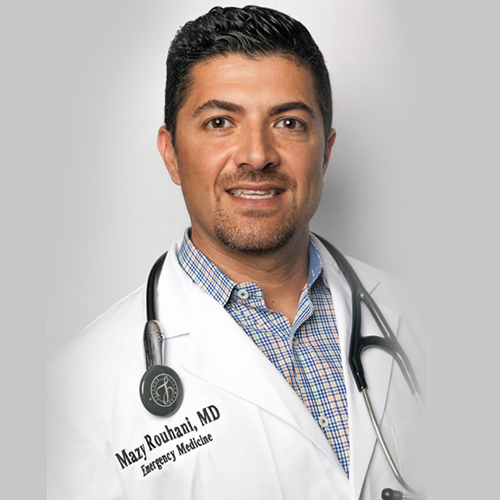 Mazyar Rouhani, MD, FAAEM

Medical Director
After completing his residency training at Vanderbilt University and Medical Center, Dr. Rouhani returned home to practice emergency medicine in South Florida. Over the last 15 years he has worked at several Emergency Departments and served as Medical Director and Chairman of the Department of Emergency Medicine at Cleveland Clinic Florida. An innovator in Emergency Medicine, Dr. Rouhani is a co-founder of Symptify, an online symptom checker to better educate patients about their conditions. As of recent he has focused his endeavors on improving patients' health using IV fluid hydration. Using his medical expertise combined with his passion to optimize each individual's health and vitality, Dr. Rouhani combines iv hydration with iv vitamin therapy services in order to provide the perfect platform to help patients look and feel their best.